Ambient Energy Aqua Purge Device Journal
You will find herein my journal and notes pertaining to the creation of the Ambient Energy Aqua Purge Device (AEAPD), which varies only slightly in character from many other 'zero power' devices of a similar purpose.  It may, none the less, be helpful in our continued battle against the insidious
tumbling machine and its repulsive appetite for power, which has hitherto been unstoppable…

Like many of you, o so beloved readers, I adore machines which stand apart from those which mass consumption and production has turned to a bland sameness.  A sameness in which we participate as outsiders – strangers fidgeting with attention starved of inquisitorial heart, void of our rightful questioning or questing. For technology, we are told, is seemingly incomprehensible and nightmarishly dangerous, and can only be manipulated, created or 'disposed of' by the 'professional expert' .  Like many of you, I hold that the workings of stuff, the machines we surround ourselves with, and upon which we daily rely, should never be unquestionably out of bounds.  Thus, I hope you find use in these pages. I hope you are inspired to invent your own aqua purge device, however dissimilar or alike.
Ever yours, BongoDrummer
17th January 2010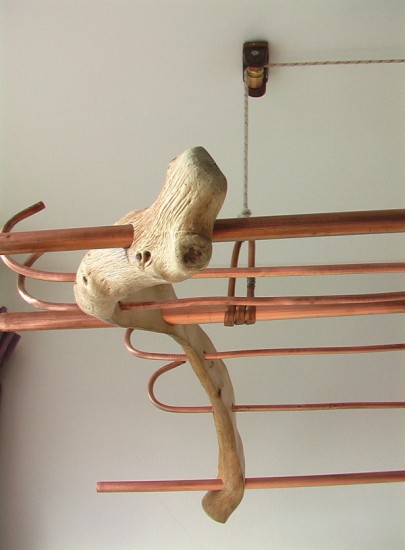 ---
Responses to Ambient Energy Aqua Purge Device
Serene
September 13th, 2011 at 6:09 pm

Never before had I PROPERLY appreciated the AEAPD (or known its true name). Really is ingenious! Muchly appreciating the musings that go with the instructions too! And it beats my living room, currently full of clothes horses, as it is so often – no room for dance or yoga! Gah! Long live the AEAPD!